Skilling Shop
Skilling guide!
One of the many shops you'll find on the colisuem will be the skilling shop, inside here you'll find useful items such as instance tickets, combat potions, tools and gems for crystallization!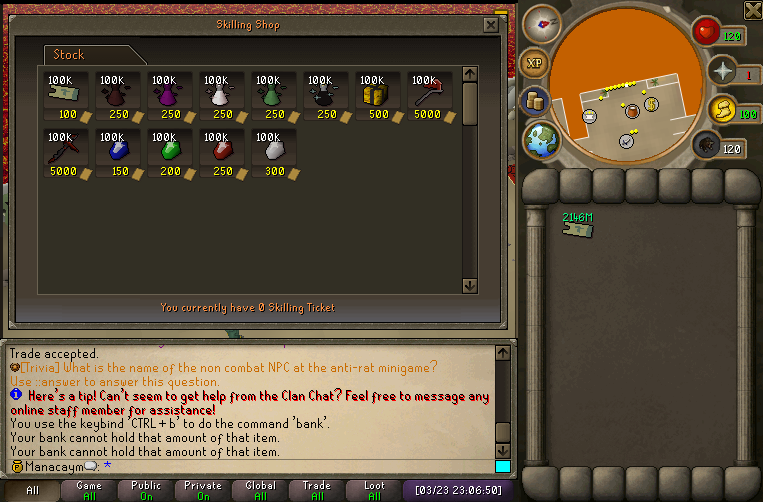 How do you get these skilling tickets you might ask? Well its pretty simple. Every type of skilling item can be dissolved for skilling tickets!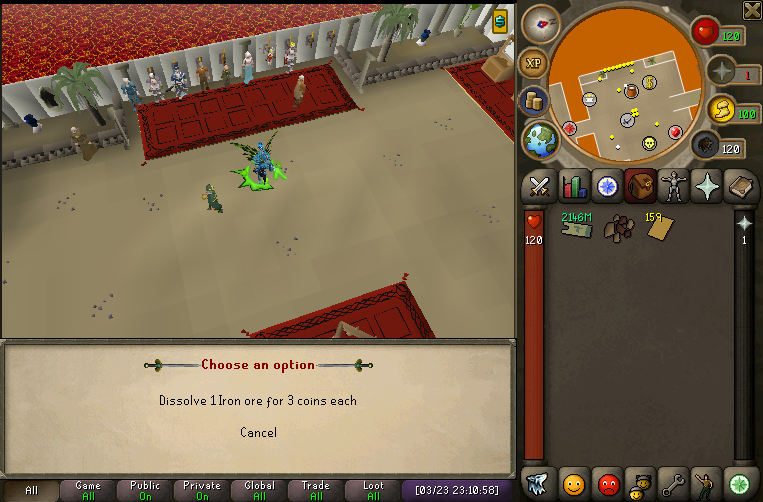 The amount of tickets will be based on skilling item you dissolve.
Here is a list of the dissolve skilling items,where to get them and the amount you get from them.
Ore can be Obtained at the mining guild through the minings skill. Copper ore= 1, Tin ore= 2, Iron ore= 3, Coal= 4, Gold ore= 5, Mithril ore= 6, Adamantite ore= 7, Runite ore= 8
Bars can be made with smithing, Furance can be found with the smithing skill. Bronze bar= 2, Iron bar= 4, Steel bar= 6, Gold bar= 8, Mithril bar= 10, Adamantite bar= 12, Rune bar= 14
Fish can be found at the fishing spot through the fishing skill. Raw Shrimp= 1, Raw Trout= 2, Raw Lobster= 3, Raw Shark= 5, Raw Sea Turtle= 12, Raw Manta ray= 7, Raw Rocktail= 8
Cooked fish can be cooked on a fire. Shrimp= 2, Trout= 4, Lobster= 6, Monkfish= 8, Shark= 10, Manta ray= 14, Rocktail= 16
Logs can be obtained from the woodcutting through the woodcutting skill. Log= 1 , Oak logs= 2, Willow logs= 3, Maple logs= 4, Yew logs= 5, Magic logs= 6
These items can be obtained from the thieving stalls. Banana= 2, Gold ring= 4, Damaged Hammer= 6, Staff= 9, Ahrims robeskirt= 12
Chinchompas can be obtained through the hunting skill. Chinchompa= 4, Red Chinchompa= 8