Revival Bug Fixes & Changes, SMS Subscription Interface & Reward
General Information
This update is mainly to fix bugs and make minor adjustments to the game after the Eclipse Revival release!
Our next content update is still planned to release in about 1 week from this bug fix update.
SMS Subscription Interface
The SMS Security interface has been changed so its now a SMS subscribe for rewards interface.
The reason for this change is that the sms security system was disabled recently due to it not being needed (accounts never get hacked due to the account pin system being so good).
When you subscribe via SMS you will get a free Legendary Surprise Box.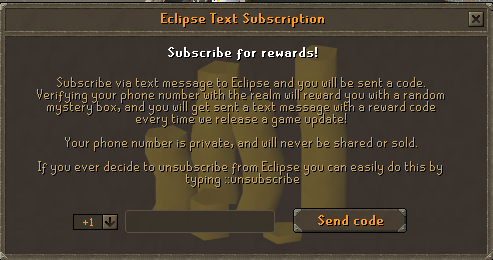 Game Changes/Additions
- You no longer need attack requirements to kill bosses if on slayer assignment
- We have added code for the new Voting Competition being released on October 1st. This code will prevent players from voting and not claiming them, to abuse the voting competition and get an advantage.
- Drop rate for furious attachment on the furious demon boss has been changed to 1/5K
- Iron man can now open runecrafting shops
- The Realm Exchange has been enabled
-Made Executive Donator Zone multi combat
-Made Character Dungeon multi combat
- Changed the Bury x Easy Bones collectionist task to Bury x Boss Bones
-Made it possible to trade Optimum Quiver
Bug Fixes
- Fixed the attack requirements for Furious Demon and Guardian Archer
- Fixed the bug where opening mystery boxes and wearing items at the same time would make your items disappear
- Fixed the bug where you would donate up to $1K and not get the custom store offers
- Fixed progression tasks not working for treacherous trolls
- Fixed world map teleport button not working in resizable
- You can no longer be at the executive zone unless your executive donator
- Ultimate Crypt Attachment now announces globally
- Item names now will be automatically shortened to fit inside the drop list interface